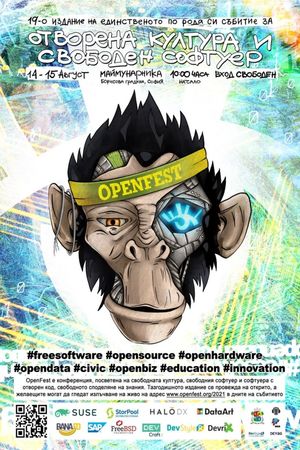 Welcome to an open-air meeting with open source supporters
Sofia, August 9
In the mid of summer, on August 14 and 15 (Saturday and Sunday), Sofia will host the 19th edition of the event for open culture and free software – OpenFest, which will be held this year in "Maymunarnika" club, Borisova gradina park. The start is at 10:00. on Saturday, and the program continues with lectures and a discussion part until 7:30 PM, and after them informal cocktails are organized on both days so that you can meet and communicate with other visitors. Admission is free, the maximum capacity for visitors of the open space will be observed.
OpenFest is known as the first native event on topics such as open source, open hardware, open data, free and open source software. This one-of-a-kind forum brings together both IT professionals and activists, academics and independent consultants. There is no age limit, and given the venue, this year's event will be more accessible than ever even for parents with children.
Guests of the event will be representatives of the State Agency for Electronic Government, who will acquaint everyone with the status of open data initiatives under European law and how they are implemented in Bulgaria. Petko Marinov will present a native development of a medical device – a personal ECG monitor – created on the basis of open hardware and software. The founder of the first shared workspace in Bansko, Matthias Zeitler will share views on the sustainability of open source projects over time. Borislav Mihailov and Haralan Dobrev will talk about the implementation and challenges of the project "You Count", which was created with open source technologies and conducted in the spirit of joint work.
After the lectures on Saturday night there will be a screening of short films and introduction to digital video art to the sounds of funk and jazz DJ sets. On Sunday evening, after the end of the program, there will be an official closing of the event, the mood of which will be taken care of by the group Dandorendo. The full program for the two days is already known and can be viewed at openfest.org/program.
"Given the complicated situation at the moment, we believe that Borisova gradina park is the most suitable meeting place, although atypical for technology conferences", said the organizers. "Maymunarnika" club offers natural tree shades and cold drinks, and in view of the summer time the organizers will provide free drinking water for all visitors with the support of Pure Water. The first three hundred visitors each morning will receive a compliment – a free coffee drink from the bar.
Those who are unable to attend the event will be able to watch the live lectures via OpenFest website. A team of volunteers takes care of the broadcasting, as well as the conference as a whole.