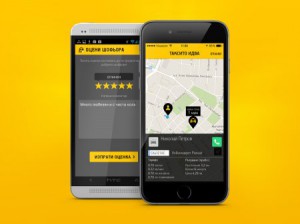 We're happy to introduce you one of our partners this year – TaxiMe.
TaxiMe is the first Bulgarian taxi app for iOS and Android with which you can quickly and easily order a taxi from your smartphone – plus it's download free. With TaxiMe you can track your order in real time, being aware where the car is situated at any moment – really convenient when ordering a taxi for your teenager or your elder relative. Only TaxiMe provides you selected taxi drivers who you can rate once you get off the taxi – this is how you help them climb up in the rating system which always sends you the best one of them near you.
TaxiMe is a 1-year-old app with over 40,000 client installs. Recently it launched a completely new version. Clients now enjoy a better, modern and even more convenient interface as well as many new features. Since October TaxiMe is also available in English and uses the more detailed Google map.